Legal Disclosure, Imprint & Data privacy
Contact Information & Imprint
Information in accordance with Section 5 of the German Broadcast Media Act (TMG).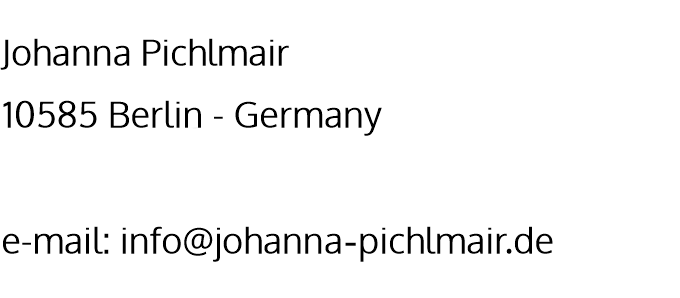 EU-Mediation
In accordance with the Regulation on Online Dispute Resolution in Consumer Affairs (ODR Regulation), we would like to inform you about the online dispute resolution platform (OS platform).
Consumers have the opportunity to submit complaints to the European Commission's online dispute resolution platform at https://ec.europa.eu/info/policies/consumers_en. The necessary contact details can be found above in our imprint.
We would like to point out, however, that we are obliged to participate in dispute resolution procedures at a consumer arbitration board.
Disclaimer
We are constantly developing the contents of this website and try to provide correct and up-to-date information. According to the German Broadcast Media Act (TMG) §7 (1) we are responsible as a service provider for own information, which we provide for the use, according to the general laws. Unfortunately, we can not assume any liability for the correctness of all content on this website, especially for those provided by third parties. As a service provider within the meaning of §§ 8 to 10, we are not obliged to monitor the information transmitted or stored by them or to investigate circumstances that indicate an illegal activity.
If you notice any problematic or unlawful content, please contact us immediately, so that we can remove the illegal content. You will find the contact details in the imprint.
Disclaimer regarding Links
Our website contains links to other websites whose content we are not responsible for. Liability for linked websites does not exist for us, as we did not have knowledge of unlawful activities and have not noticed such illegality and we would remove links immediately if we become aware of any illegalities.
If you find unlawful links on our website, please don't hesitate to contact us. You will find the contact details in the imprint.
Copyright Notice
All contents of this website (pictures, photos, texts, videos) are subject to the copyright law. Please ask us before you distribute, reproduce or copy contents of this website, such as republishing on other websites. If necessary, we will legally pursue the unauthorized use of parts of the contents of our site.
If you find content that violates the copyright on this site, please don't hesitate to contact us.
Graphics and Image Sources
The pictures, photos and graphics on this website are protected by copyright.
The image and video rights belong to the following photographers and companies:
Tam Lan Truong
Franz Pflügl
Peter Adamik
Johannes Titze
Concours musical international de Montréal, CMMIM
Data Protection 6 Privacy Policy
Privacy Policy
We have written this privacy statement (date 03.11.2019) to explain to you in accordance with the provisions of the EU Data Protection Regulation 2016/679, which information we collect, how we use this data and what rights you have as a visitor.
Unfortunately, it is in the nature of things that these explanations sound very technical, but we have tried to make the most important things as simple and clear as possible.
Recording of data on our website
If you visit websites today, certain information is automatically created and stored.
If you visit our website, our web server (computer on which this website is stored) automatically stores data such as
the address (URL) of the website you are visiting
Browser type and browser version
the used operating system
the address (URL) of the previously visited page (referrer URL)
the host name and IP address of the device from which this website is accessed
date and time
in server logfiles.
As a rule, web server log files are stored for two weeks and then deleted automatically. We do not disclose this information, but we can not rule out that it will be seen in the event of unlawful behavior.
The legal basis is Article 6 (1) of the GDPR (Legality of processing).
Storage of Personal Data
Personal data that you submit to us electronically on this website, such as name, e-mail address, address or other personal information in the course of submitting a form or comments, will be transmitted by us together with the time and IP address. Address used only for the purpose specified, kept safe and not disclosed to third parties.
We only use your personal data for communication with visitors who expressly request contact and for the processing of the services and products offered on this website. We will not disclose your personal information without consent, but we can not rule out that it will be seen in the event of unlawful behavior.
If you send us personal information by e-mail, we cannot ensure a protected connection. We recommend that you never send confidential information via email.
The legal basis under Article 6 (1a) of the GDPR (lawfulness of processing) is that you give us consent to the processing of the data you enter. You can revoke this consent at any time – an informal e-mail is sufficient, you will find our contact details in the imprint.
Rights according to the General Data Protection Regulation
According to the provisions of the GDPR, you have the following rights in principle:
Right of rectification (Article 16 GDPR)
Right of cancellation ("Right to be forgotten") (Article 17 GDPR)
Right of restriction of processing (Article 18 GDPR)
Right of notification, – Notification obligation in connection with the correction or deletion of personal data or the restriction of processing (Article 19 GDPR)
Right of data transferation (Article 20 GDPR)
Right of objection (Article 21 GDPR)
Right not to be subjected to a decision based solely on automated processing - including profiling - (Article 22 GDPR)
If you believe that the processing of your data violates data protection law or your data protection claims have otherwise been violated in any way, you can contact the Federal Commissioner for Data Protection and Freedom of Information (BfDI).
Evaluation of Visitor's Data
In the following privacy policy statement, we inform you about whether and how we evaluate data of your website's visit. The evaluation of the collected data is usually anonymous and we can not infer from your behavior to your person.
TLS encryption with https
We use https to transmit data securely over the Internet (German data protection act Article 25 paragraph 1 GDPR). By using TLS (Transport Layer Security), an encryption protocol for secure data transmission over the Internet, we can ensure the protection of confidential data. You can recognize the use of this encryption protocol by the small lock symbol in the upper left corner of the browser and the use of the scheme https (instead of http) as part of our Internet address.
Disclaimer in accordance to YouTube
We have included YouTube videos on our website. So we can present you interesting videos directly on our site. YouTube is a video portal that has been a subsidiary of Google LLC since 2006. The video portal is operated by YouTube, LLC, 901 Cherry Ave., San Bruno, CA 94066, USA. When you visit a page on our website that has a YouTube video embedded ('Media' page), your browser automatically connects to the servers of YouTube or Google. Depending on the settings, different data will be transferred. Google is responsible for all data processing and therefore Google's privacy policy.
Afterwards, we want to explain in more detail what data is processed, why we have included YouTube videos and how you can manage or delete your data.
What is YouTube?
On YouTube, users can watch, rate, comment and upload videos for free. Over the last few years, YouTube has become one of the most important social media channels in the world. In order for us to be able to display videos on our website, YouTube provides a code snippet that we have incorporated on our site.
Why do we use YouTube videos on our website?
YouTube is the video portal with the most visitors and the best content. We make every effort to offer you the best possible user experience on our website. And of course, interesting videos should not be missing. With the help of our embedded videos, we provide you with additional helpful content in addition to our texts and images. In addition, our website is easier to find on the Google search engine through the embedded videos.
What data is stored by YouTube?
Once you visit one of our sites that has a YouTube video embedded, YouTube will at least set a cookie that stores your IP address and URL. If you are logged into your YouTube account, YouTube may use cookies to associate your interactions on our website with your profile. This includes such things as session duration, bounce rate, approximate location, technical information such as browser type, screen resolution, etc.. Other data may include contact information, any reviews, sharing content through social media, or adding to your Favorites on YouTube.
If you're not signed in to a Google account or Youtube account, Google will store data with a unique identifier associated with your device, browser, or app. For example, your preferred language setting is retained. But many interaction data can not be saved because fewer cookies are set.
How long and where is the data stored?
The data that YouTube receives from you and processes are stored on Google's servers. Most of these servers are in America. The servers' locations can be found at Google Datacenters Locations. Your data is distributed on the servers. This makes data retrievable faster and better protected against manipulation.
The collected data is stored on Google servers for various durations. Some data can be deleted at any time, others are automatically deleted after a limited time and others are stored by Google for a longer periode of time. Some data stored in your Google account will be kept until you delete it. Even if you're not signed in to a Google account, you can delete some of the data associated with your device, browser, or app.
How can I delete my personal data or prevent data storage of personal data?
You can manually delete data in the Google account. With the automatic deletion of location and activity data introduced in 2019, information becomes deleted depending on your decision– after 3 to 18 month.

Regardless of whether or not you have a Google account, you can configure your browser to delete or disable Google cookies. Depending on which browser you use, this works in different ways. The following instructions show how to manage cookies in your browser:

If you basically do not want to have cookies, you can set up your browser so that it always informs you when a cookie is to be set. So you can decide with each individual cookie whether you allow it or not. Since YouTube is a subsidiary of Google, there is a common privacy policy. If you want to know more about how to handle your data, we recommend that you read the privacy policy at https://policies.google.com/privacy.

Source: The imprint was created among other things with text modules generated with the Imprint Generator from AdSimple.
---