Inspiration & Studies
Johanna Pichlmair was born in Judenburg, Austria in 1990. At the age of 5, she was listening to a Beethoven violin concerto performed by David Oistrakh. That experience was the defining moment of her life, one that made her want to become a violinist, even without having seen a violin before. A year later, she was taking her first lessons with Alexandra Rappitsch at the local music school in Fohnsdorf. At the age of 18, she was accepted at the Mozarteum Salzburg in the class of Igor Ozim. One year later she transferred to Hanns Eisler School of Music in Berlin, where she continued her training with Antje Weithaas and Feng Ning. Since 2014 her teacher has been Nora Chastain at Berlin University of the Arts.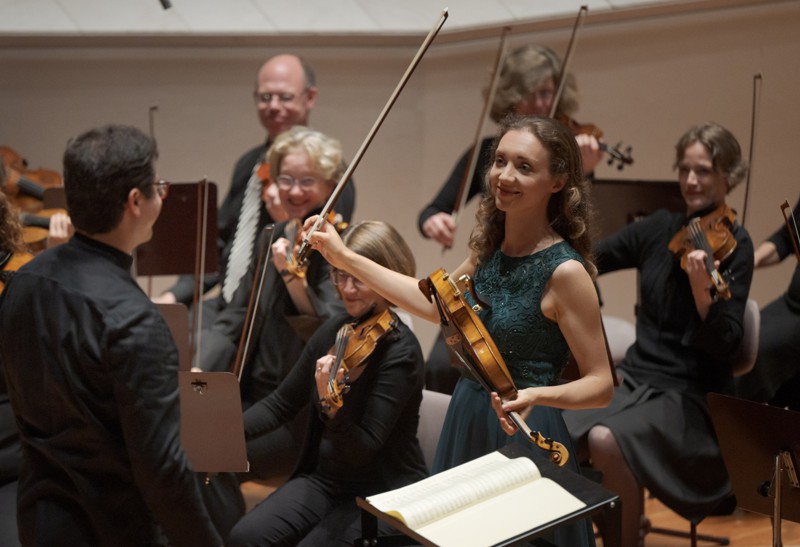 Commendation
Among her many awards and distinctions are prizes from the Ibolyka-Gyarfas-Competition in Berlin, the Henri Marteau International Violin Competition, the Canetti International Violin Competition in Cremona, the "Marcosig" Violin Competition in Gorizia, the International Fritz Kreisler Violin Competition in Vienna, the competition "Pacem in Terris" in Bayreuth, the Queen Sophie Charlotte Violin Competition as well as at the International Lake Constance Music Competition.
In July 2018, she received the First Prize at the Ysaye International Music Competition in Liège. In 2019, she received Second Prize at the Peter-Pirazzi Competition in Frankfurt and at the International Max Rostal Violin Competition in Berlin. Recently she won the Second Prize and two Special Prizes for her interpretations of Bach and the obligatory piece by Oesterle at the Montreal International Violin Competition, which marked a highlight of her career.
Performances
Johanna has held scholarships from the Villa Musica Foundation (Rhineland-Palatinate), the Ottilie Selbach-Redslob Foundation and the Deutsche Stiftung Musikleben, and was a member of the Herbert von Karajan Academy of the Berlin Philharmonic (2014-16). Her solo appearances and recitals have taken her to many European countries as well as Canada and the United States. She has made guest appearances at the Schleswig-Holstein Festival, the Heidelberg Spring and the Ludwigsburg Palace Festival and was a featured soloist with the Munich Radio Orchestra, the Nuremberg SO, the Southwest Chamber Orchestra (Pforzheim), the Vogtland Philharmonic and the Graz Philharmonic.
Johanna performed several recordings including portraits and live recordings on the national radio Ö1 Intrada, on the Bavarian Broadcast Corporation and the Southwest German Broadcast Corporation. In 2015, she won a scholarship from the German Music Competition and was chosen for the nationwide Young Artists Concerts in the 2015-16 and 2016-17 seasons, where she made many appearances with the Trio Pascal and other duet and trio formats.
Since 2012, Johanna has had the opportunity of playing a violin by Joseph Guarneri Filius Andreae.
In 2017, she received her first position with the Symphonieorchester des Bayerischen Rundfunks. Since March 2020, she has been a member of the Berliner Philharmoniker's first violin section.